His Majesty the King of the Netherlands and Her Majesty Queen Máxima were proudly received at the Blesbokspruit wetland in South Africa on October 18, in the presence of South African Minister Mchunu (water and sanitation). The visit to this Blue Deal project is the first part of their 3-day state visit to South Africa.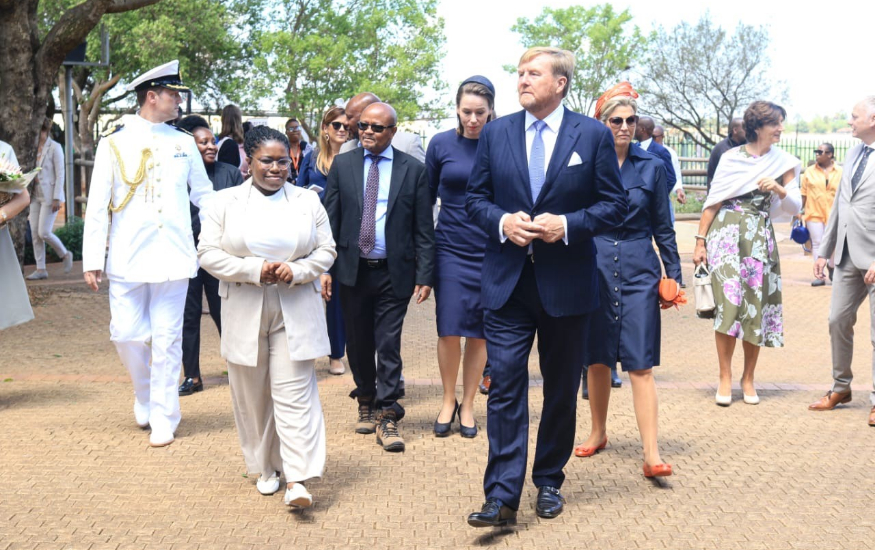 The wetland suffers from poor water quality, caused by the water hyacinth, an invasive aquatic plant. The King and Queen are enthusiastic about the creative solutions that South African and Dutch water authorities are jointly investigating to combat water hyacinth. This is done in the context of the Blue Deal, the international programme of Dutch Water Authorities and the Dutch Ministries of Foreign Affairs and Infrastructure and Water Management.
Fleas combat the water hyacinth
During the tour, the royal couple saw how the water hyacinth is removed. This is not only done by hand and with machines. Researchers are experimenting here with biological control. Natural enemies of the water hyacinth play the leading role: fleas from South America. King Willem-Alexander visited the greenhouse where the fleas are grown. And watched as these were deployed on the water hyacinth.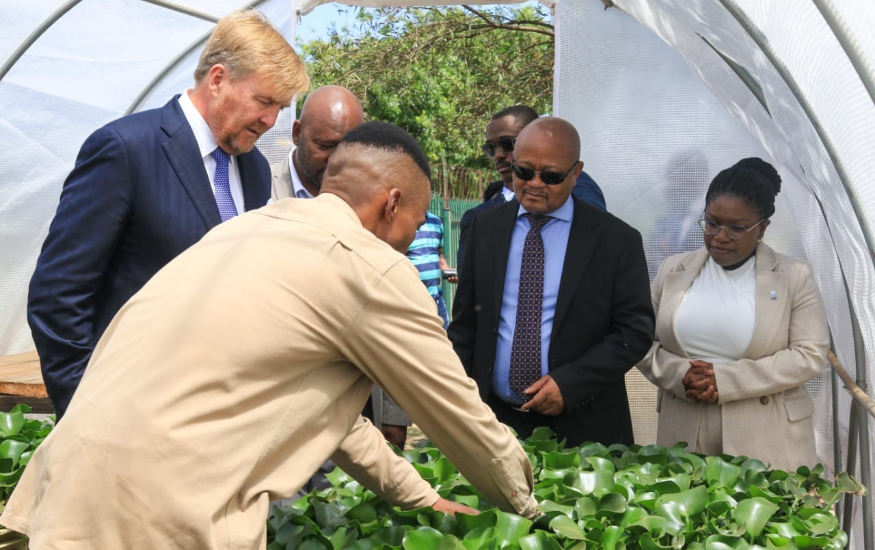 Entrepreneurs use water hyacinth a raw material
In the meantime, Queen Máxima spoke with a local entrepreneur, who uses the dried water hyacinth to weave baskets and other useful products and sell them. The woman also trains others in weaving and entrepreneurship. This initiative really appealed to the Queen. Also, water hyacinth is not only used for weaving products. Applications on a larger scale also seem promising, for example as a raw material for briquettes or geotextiles.
Young water professionals and students help out
There is still a lot to discover and learn within the Blesbokspruit project. The Blue Deal makes grateful use of the innovative ideas of students with a passion for water from the international Wetskills programme. These students come from all over the world. Their goal: finding innovative solutions to water management challenges in a changing world. In Blesbokspruit, a Wetskills participant presented her ideas to the King.
Challenges to learn from, experiences to share
Sharing knowledge and experiences with each other is what the water authorities do in the Blue Deal programme. The Blesbokspruit project is a good example of this. This is not just about solving an isolated problem. Water managers pool their expertise and share the results, also with other regions with similar problems. The Blue Deal programme has partnerships in 15 countries. The goal: improve access to clean, sufficient and safe water for 20 million people worldwide.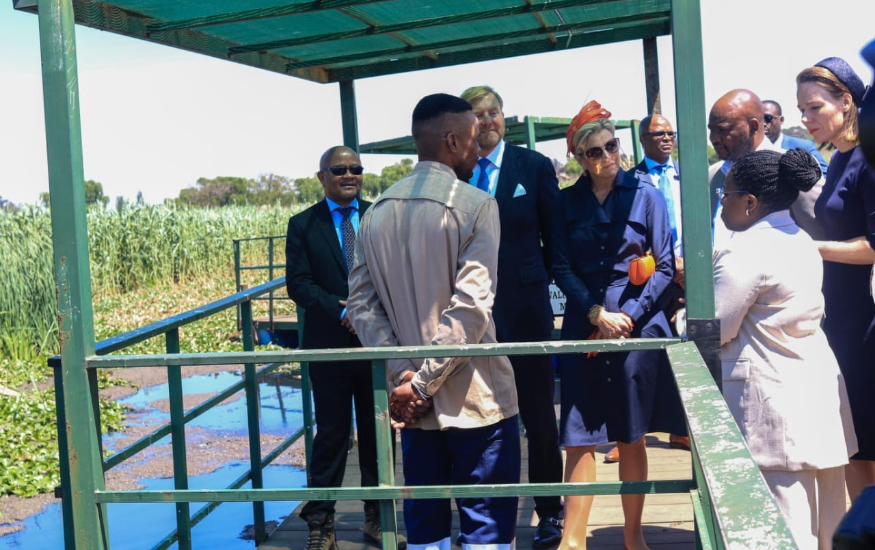 Two-way street
By exchanging knowledge, the Dutch water authorities also learn a lot from partnerships with other countries. For example, just like South Africa, the Netherlands has to deal with invasive exotic species. In addition, the water authorities can learn a lot about drought, with which South Africa already has a lot of experience.
> Read an interview with Zama, who showed the King and Queen around
> Read more about the Blue Deal partnership in South Africa