Since 2019 the Blue Deal has a partnership with the water authorities in the West Bank, part of the Palestinian Territories, until 2030. We follow the current news with a heavy heart, as does everyone in the Netherlands and the rest of the world. The situation takes a huge toll on our Palestinian colleagues and we wish them strength in these difficult times. We will continue the partnership as good as we can, because water is crucial, especially now.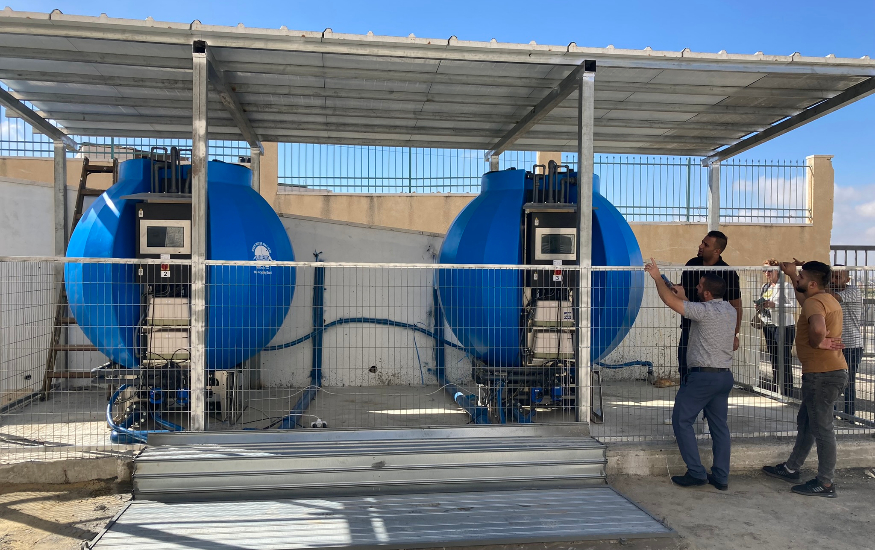 In September 2022, 3 wastewater recycling units, or 'BluElephants', were officially launched in Salfeet and Halhul in the West Bank in the Palestinian Territories. Thanks to these purification units, wastewater can be treated without the immediate need for people on site. The devices can be read, monitored and operated remotely. If these units were not there, Palestinian colleagues would have to go to the locations of the wastewater treatment plants, which is very difficult in the current situation. In 2023, a regional laboratory for (waste)water analysis and for digitizing a broad range of (waste)water infrastructure was opened. This laboratory supports sound water services in a more remote way.
Although our Palestinian colleagues in the West Bank are very limited in leaving their homes for safety reasons, we continue to maintain daily digital contact with them. They have indicated that they are highly motivated to keep continuing the exchange of experiences with each other on a technical level. We can only admire their strength and perseverance. Our Dutch colleagues can serve as a sounding board, for example in safeguarding (waste)water services more remotely.
Do you want to read more about how the Blue Deal partnership with the Palestinian Territories can continue? Read the blog from World Waternet.