'Nothing About Us Without Us'. A slogan that exactly expresses what the Blue Deal Theewaterskloof project in South Africa is doing: meaningful participation by all partners, especially with the local community as guiding project members. Since only an engaged community leads to sustainable change.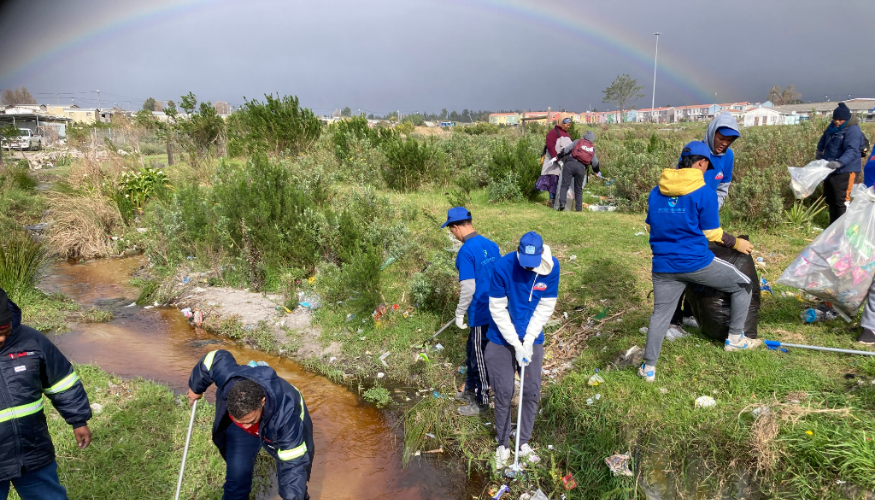 The ultimate goal of the Theewaterskloof project is to address the diffuse pollution threat emanating from rapidly growing informal settlements. We do this by improving sanitation and decreasing solid waste pollution. The project is rolled out in the towns of Grabouw and Villiersdorp in the Theewaterskloof Municipality, Western Cape.
The highly anticipated Blue Deal Theewaterskloof work visit took place from July 9 – 21. It included a team building session with all the parties involved. A clear way forward was discussed and steps to enable action plans with the project teams were made.
Nelson Mandela Day
July 18 marked a special day: Nelson Mandela Day. The worldwide Mandela Day Campaign message encourages people to use 67 minutes of their time to support a chosen charity or serve in their local community. The 67 minutes symbolically represent the number of years the former President fought for human rights and the abolition of Apartheid. The Blue Deal project team joined forces with local communities in Villiersdorp and Grabouw and took this opportunity to make a difference, which included a river clean-up, painting of a day care centre and fixing the sanitation facilities there.
Signing the Memorandum of Understanding
This was followed by the signing of the Blue Deal Theewaterskloof local Memorandum of Understanding by the core partners. These were Dutch Water Authorities, Theewaterskloof Local Municipality, Department of Water & Sanitation: Western Cape, and the Breede-Olifants Catchment Management Agency. In doing so, the partners expressed their support and commitment. Indeed an important moment for the project, led by a local pastor's prayer, celebrated with singing and dancing.