During the work visit in February and March, Dutch colleagues within the Blue Deal programme InspirAgua visited Colombia to assist their Colombian counterparts in the regions of Caldas, Santander, Huila, Valle de Cauca and Bogotá. A memorable visit in which the continuation of the programme was endorsed by the Colombian partners.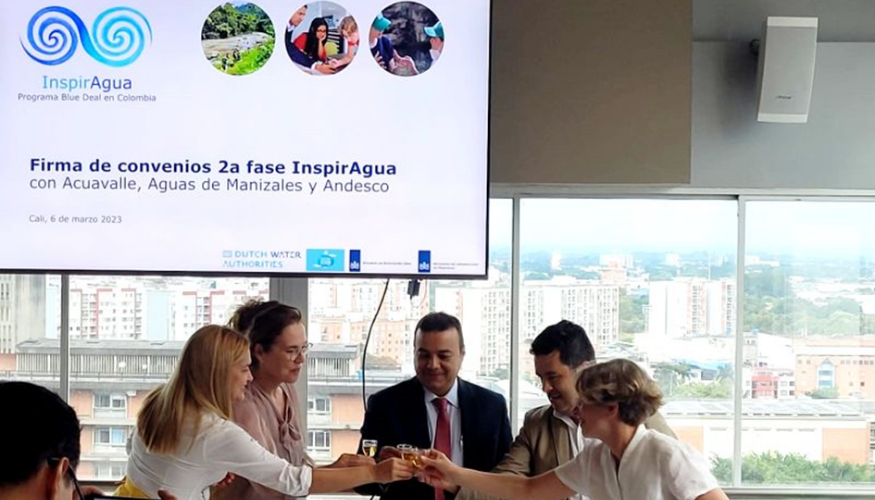 Agreements for Phase 2 of the Blue Deal were signed with regional environmental and water authorities (CARs) CAM, CAS, CDMB, CVC, Corpocaldas and national association ASOCARS, as well as with the administration of the Santander department and with water companies Empocaldas, Aguas de Manizales, Acuavalle and Aguas del Huila. A new partner of the programme is Andesco, an umbrella organization for public service companies. Cormagdalena will follow in April.
Cooperation agreements
InspirAgua's CAR partners formalized the agreement at the ASOCARS General Assembly, in the midst of the impressive nature of Nuquí on the Pacific coast of the Department of Chocó. There, 21 Colombian CARs gathered for this annual meeting, where they also signed the 'Alliance for Protected Areas of Colombia'.
Director of the Dutch water authority Rijn en IJssel, Rudi Gerard, explained the method of water governance in the Netherlands, followed by Michelle Talsma of STOWA, who emphasized the importance of collaboration in knowledge development. A retrospective on Phase 1 and preview of Phase 2 of the programme was given by Ellen Bollen, programme manager of InspirAgua. Director of the Dutch water authority De Dommel, Marit Borst, signed the cooperation agreements on behalf of Watergraaf Erik de Ridder.
The programme also aroused interest among Colombian directors who were not yet affiliated with InspirAgua. It has been agreed that the results and knowledge gained will be shared horizontally with all CARs led by ASOCARS.
Working together in different cultures
Contacts and collaboration within InspirAgua intensify as time progresses and goals for 2030 are set. All the more reason to zoom into cultural denominators of our 'way of working' for a better understanding and effective cooperation, such as communicating, scheduling, deciding, trusting, and more. 'Culture coach' Sylvia van Glabbeek hosted workshops on intercultural cooperation in Manizales and Cali attended by Dutch and Colombian InspirAgueros. Simple examples like difference in the planning of a personal agenda sparked animated conversations and the exchange of ideas, as noted by a participant in Manizales. Work on the relational level is important for the technical and instrumental efforts of InspirAgua members. Interested in what those are? Visit InspirAgua on LinkedIn.