21 February was an important day for the Blue Deal in Burkina Faso. All the partners of the Blue Deal partnership were present to reflect on Phase 1 of the Blue Deal and to celebrate and sign for the start of Phase 2.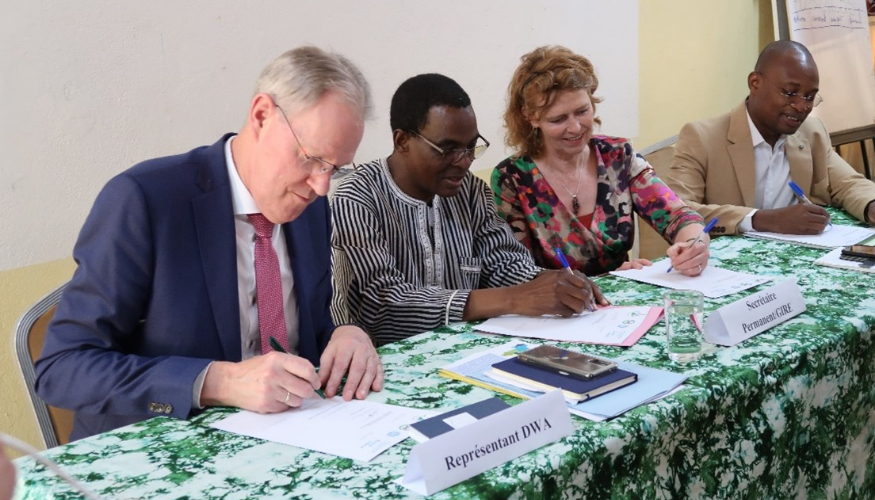 The partners of the Blue Deal include representatives from the 5 Burkinabe Water Agencies, the CLEs, the SP-GIRE (the Ministry of Water), OIEau, Eau Vive international, SNV, Unité de Gestion Project GIRE, the Embassy of the Netherlands and Dutch Water Authorities.
Within this Blue Deal partnership, the focus is on Integrated Water Resource Management and building capacity for performance improvement. 5 Burkinabe Water Agencies and several Local Water Committees are working closely together with the Dutch water authorities World Waternet/AGV, Hunze en Aa's, Noorderzijlvest and Drents Overijsselse Delta.
Important landmark for cooperation
The celebration and signing of the Blue Deal Phase 2 is an important landmark for the cooperation between the 2 countries.
Le Secrétaire Permanent Moustapha Congo from the SP-GIRE (the Ministry of Water) emphasized in his opening speech: "We really appreciate that the cooperation and the working visits from Dutch Water Authorities to Burkina Faso are going ahead, despite the situation our country is currently facing. We already have a long history together and the renewal of the commitment between our countries is again for a long period of time."
President of the Dutch water authority Hunze en Aa's Geert-Jan ten Brink: "This partnership is important for both our countries. It is the way to exchange knowledge on water management issues. We all have to deal with the impacts of climate change. Climate change means that the Netherlands will increasingly be confronted with extreme weather events, like drought. Burkina Faso is the expert in this field. The way Burkina Faso deals with these challenges is a huge inspiration to us."
And that's what makes this collaboration between the 2 countries so unique: the one deals with too much water, the other with too little. Due to climate change, both the Netherlands and Burkina Faso need to work together to get ready for the future.