On September 7, the Dutch management of the 4 largest Blue Deal partnerships came together in the Dutch province Fryslân for a meeting. The objective for this gathering was: how can we learn from each other about managing large partnerships?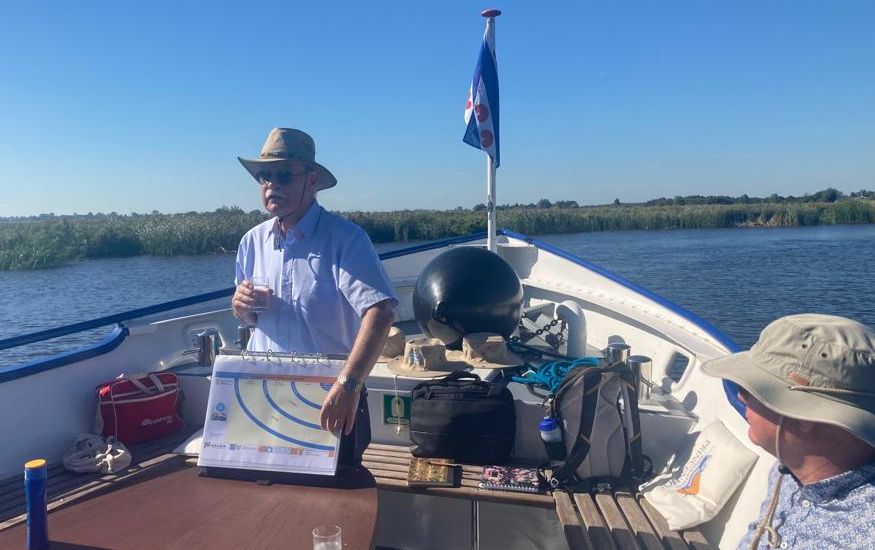 The meeting was amongst the partnerships of Mozambique, Colombia, Eswatini and South Africa. The managers were invited to Friesland, at the invitation of the partnership manager of Mozambique, of which Wetterskip Fryslân (the Dutch water authority in the area of Fryslân) is the lead partner. This was the third time that the major partnerships organized such a consultation. This time was extra special, thanks to a boat trip through the beautiful Alde Feanen nature reserve.
Topics to discuss
The colleagues exchanged, for example, their experiences with working with a so-called 'talking sheet'. This sheets makes it visible which Blue Deal topics the partnership is working on, and where there are topics that still need to be addressed. "It helps to establish a relationship of the concrete activities which are implemented with the longer-term goals," says one of the participants. "Large partnerships deal with many people and interests. Visualising this helps to get an overview of how all our activities contribute to our larger goals, and what we should continue or stop."
The participants also discussed, among other things, their annual plans for 2024, presented to each other how they have organised their partnerships and discussed decentralization in one of the partner countries. They also covered the safety assessments of work visits, finances, accountability, and much more.
Learning from each other
An important part of the Blue Deal is learning from each other. Therefore, the Blue Deal learning programme also includes a training for new partnership managers. Thanks to this joint intervision of the partnership managers, the 4 largest partnerships are now going one step further to exchange knowledge with each other.