During work visits in September, October and November the Dutch water authorities visited their Blue Deal-partnership in Colombia for the first time in 1,5 year. This provided new energy and a boost to the program. "Digital working is so much different from working together and figuring out where the real problems lie and what it takes to solve them."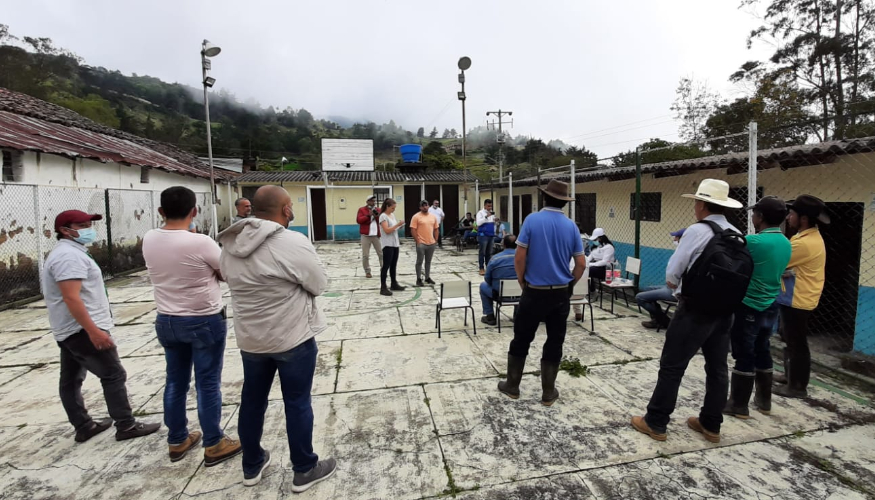 InspirAgua is the name of the Blue Deal-program in Colombia. In this partnership Dutch and Colombian water professionals share their knowledge and experience, to inspire each other. InspirAgua focuses on the every day work, to help people and organizations to work together with the right tools.
The necessity of physical meetings
The latest work visit before the corona crisis took place in March 2020. After that, the program continued digitally, but not with the same results as through physical meetings. Ellen Bollen-Weide, the Dutch program manager of InspirAgua: "Technically we could keep working during the corona period. However, we noticed that it was mainly sending information. And that's a lot different from working together and figuring out where the real problems lie and what it takes to solve them."
April this year it became clear that it was very difficult to achieve results by working from a distance. That's why work visits were planned as soon as corona measures permitted them.
Results
The Dutch water authorities visited their partners in Valle del Cauca, Caldas, Santander and Huila. They talked about the annual plan for 2022 and made the plans concrete. They also discussed the agenda for 2022 with all partners involved. Contacts were reinforced and all partners are still very positive about the cooperation.
During these last visits we've had some successes in the projects. In Valle del Cauca a new cooperation agreement was drawn up. In Santander big steps were made on topics such as participative monitoring and stakeholder analysis. In Huila the work plan for 2022 was finalized for support of the operational management and maintenance of smaller sewage treatment plants. And in Caldas we've talked about a cooperation agreement to support the construction of a sewage treatment plant for the southern part of Manizales (about 250.000 residents).
Let's go (again)!
Program manager Bollen-Weide: "This past period we've set up technical committees, that were eager to start. That's something we did achieve by continuing our work digitally: our contacts have been maintained and we were able to make a flying start, now that we can really start working together again."