A delegation of Colombian directors from the water sector visited the Netherlands from May 8 until May 15. The visit was part of the Blue Deal program InspirAgua.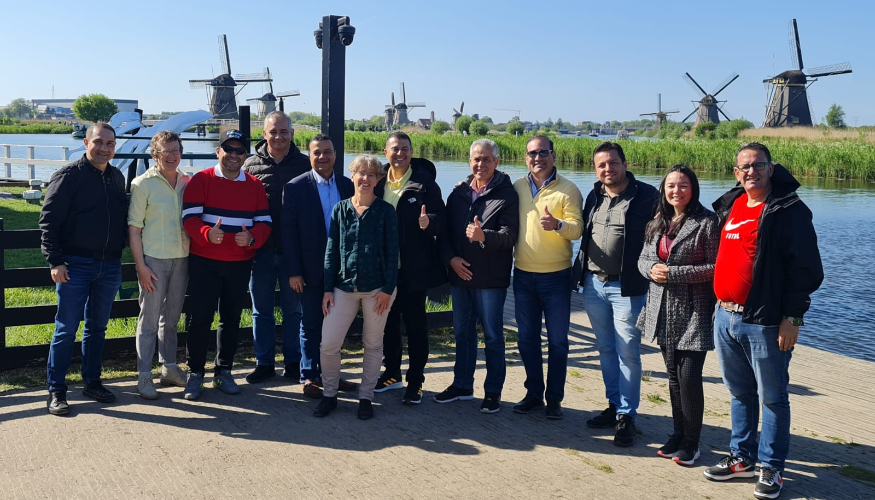 Within InspirAgua Dutch water authorities are working together with their Colombian partners. They do this through inspiration and sharing knowledge and experiences with each other, for example on the issue of participative monitoring. This cooperation ensures a further professionalization of water management in both the Netherlands and Colombia. The main goal: better water management and cleaner water for millions of people in Colombia by 2030.
Good cooperation
The visit of Colombian directors from the water sector to the Netherlands underlines the good cooperation within InspirAgua. The delegation was introduced to tasks in water management in the Netherlands. Including water storage, room for the river and the restoration of ecological values. In addition, the directors spoke to representatives of Dutch Water Authorities, various ministries and the Colombian embassy in the Netherlands.
Mutual learning and inspiration
Erik de Ridder, highest board member of the water authority De Dommel and administratively responsible for the InspirAgua programme, is pleased with the visit: "It is important and good to welcome a large delegation of Colombian directors involved in InspirAgua to the Netherlands. In this way they gain even better insight into the work we do within the program. We learn from them and they learn from us. That works best if you can view the assignments together on location. The visit is a confirmation of the constructive and fruitful cooperation between Colombia and the Netherlands and is a good basis for the follow-up."
Creating joint added value
Luzette Kroon, board member of Dutch Water Authorities and administratively responsible for the Blue Deal, clearly sees the added value of the collaboration within InspirAgua: "We have to adapt spatial planning in the Netherlands to climate change. We can learn a lot from the way Colombia really does that together with its inhabitants."