On September 12, the Blue Deal presented a session during Partners for Water's Day 'Social Inclusion in Water Climate Adaptation – making a Transformation' in Utrecht.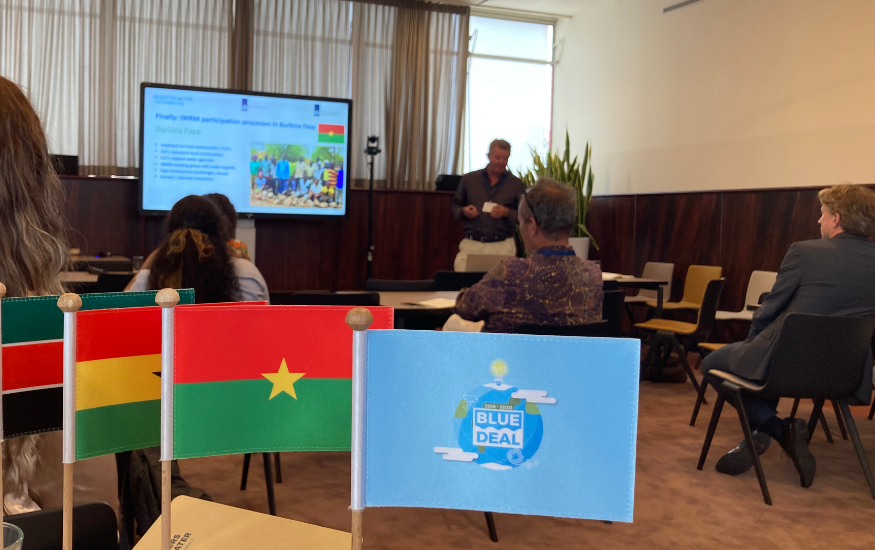 "We need to bend the beam of observation upon ourselves", says Martin Kalungu-Banda of the Ubuntu.Lab institute, one of the speakers during the plenary programme. Are we always doing as well as we think we do or should we sometimes look at ourselves more critically? The room is full of people from the water sector, from NGOs and organizations such as the Blue Deal. All with the beautiful intention of supporting others worldwide. But this requires that we work on the right things and especially with the people involved. "We're trying to help, but we forget to listen," notes one of the participants of the day.
Within the Blue Deal we try to do this through stakeholder participation. During the session 'Working bottom up in Integrated Water Resources Management: how to implement an Area Oriented Approach to maximize sustainability and inclusiveness', about 20 people from different organizations were present and 3 examples from the Blue Deal were discussed.
Communities map top 10 issues
Priscilla Daddah, Young Expert for the Blue Deal partnership in Ghana, explains during the session how the partnership involved stakeholders by working with 3 communities to map the top 10 issues for the Lower Volta Songor region. They also jointly drew up a Community-based Resource Management Plan (CREMA).
Using traditional tribal hierarchy
Bertho Bulthuis, water expert from the Blue Deal partnership in Burkina Faso, explains how they use the traditional tribal hierarchy within his partnership. "This is an already existing structure, able to connect people in the communities." Of course, there are also disadvantages to this, Bulthuis admits. Because these structures do not represent everyone either. Another challenge he mentions is that many people in the area cannot always focus on anything else besides their daily needs. "It's not always easy to look towards the future to things like climate mitigation and adaptation, when you are struggling for daily needs, like food for the day."
Future base camp
Tanah Meijers, from the Blue Deal partnership in Kenya, talks about the 'Bring Njururi back to the river' project. This project is about restoring the water beetle (Njururi) to the Thika river in Upper Tana, Kenya. The water beetle symbolizes good water quality and a healthy ecosystem.
Stakeholder participation also plays a major role in this project. For this purpose, the team organized a so-called future base camp. About 120 people from various social groups and organizations in the area came together for a few days of camping. Together they thought about how they would like to shape the future in their region and how they could achieve this. Meijers: "We were looking for common ground, because everybody is part of the solution. Together, we drew a map. What is happening today? What are the challenges we face? And what do we need to do to get the water beetle back?"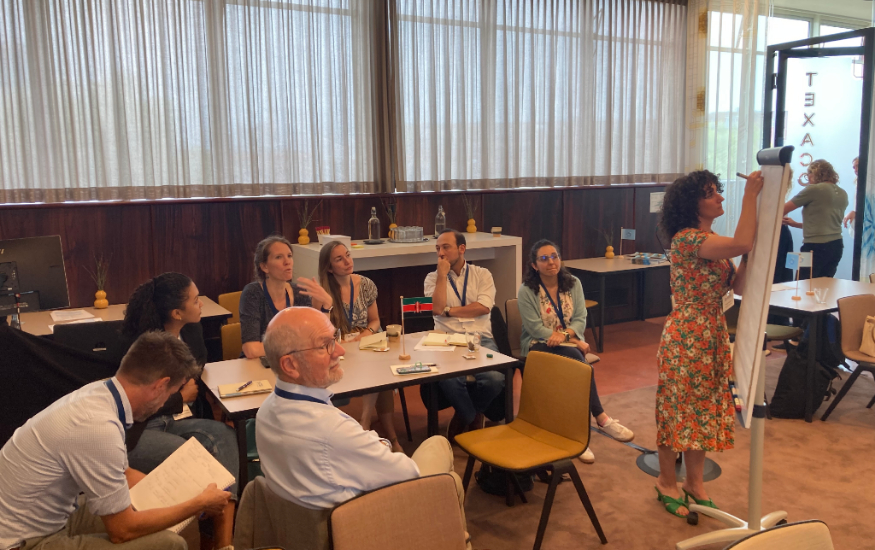 Discussion
After the presentations of the case studies, participants of the Blue Deal session discussed in 3 groups about how to scale an inclusive sustainable bottom-up approach on IWRM: how to implement a jointly drafted sub-catchment plan and maximise sustainability and inclusiveness? Below some of the discussion outcomes:
Formalisation of the effort of local organisations is necessary (mandate/ status);
Make use of current systems of formalised governments;
As soon as you scale up, the balance between bottom-up and top-down can get lost, it is a battle to fight for the rights in a bottom-up approach. Be aware of these issues;
There will be a political battle/competition about livelihood needs and less on water needs when you scale up. Be aware of these aspects;
Choose your local champions to scale your approach;
Keep reflecting: is everyone really included?
Clear benefits and responsibilities are necessary to get everyone on board;
Realisation of the needs: analyse the needs in an area thoroughly;
These processes take time. Spend time on raising awareness in your project
Get in touch
Want to know more about the outcomes of these 3 cases? Reach out to info@bluedeal.nl to get in touch with one of the speakers.