The Blue Deal Congress will take place in Amsterdam from 12 to 14 June. 14 countries will take part in this water congress. Afterwards the delegations will visit Dutch water projects in various provinces for 2 days. This way Dutch Water Authorities and the Ministries of Foreign Affairs and Infrastructure and Water Management want to exchange knowledge within the international water sector.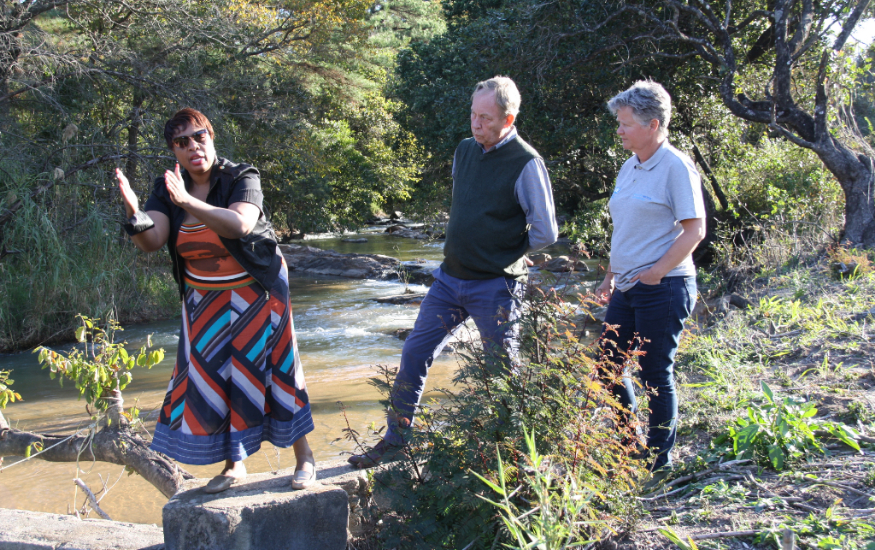 Improving access to clean, sufficient and safe water worldwide for 20 million people around the world in 2030. That is the ambitious goal of the Blue Deal, the international programme of the 21 Dutch water authorities and the Ministries of Foreign Affairs and Infrastructure and Water Management. The Blue Deal started in 2018. The second phase will run from 2023 to 2030.
"The consequences of climate change are huge," says Luzette Kroon, board member International Affairs at the Association of Dutch Water Authorities. "In recent decades, water-related disasters have increased. Hurricanes, downpours and rising sea levels lead to flooding. Droughts and water shortages undermine millions of families' livelihoods and make some areas uninhabitable. This causes a great deal of damage and unrest, threatens peace and security and fuels migration. Water is therefore high on the international policy agenda."
There is an increasing demand for knowledge and expertise in the field of water management. Kroon continues: "Dutch Water Authorities can offer that. But with the Blue Deal, the water authorities not only want to provide knowledge, but also collect it," emphasizes Kroon. "It goes both ways. For example, we learn from the experiences with drought in countries such as Burkina Faso and South Africa. Other examples are the cooperation with stakeholders, but also switching to crops that require less water. That is relevant for the entire water sector."
Achieve global goals
The Blue Deal programme contributes to achieving the Sustainable Development Goals (SDGs). Dutch water envoy Henk Ovink: "Water is our best chance for the future. Water's power to change means that water has an impact on all SDGs. Water security can be felt in every vein of our society. And working on water literally brings together every voice and stakeholder, in every river basin, river course or region, across all borders and sectors. Water connects interests and cultures. Optimal water management is essential, and water managers must sit around the table. And that is the core of the Blue Deal Programme. The whole world working together for water, nothing less".
"The Dutch Ministry of Foreign Affairs is a proud partner of the Blue Deal," says director René van Hell of the Ministry. "In the first phase of the Blue Deal, we strengthened and built up the partnerships in the then 16 partner countries together with Dutch Water Authorities. For phase 2, we want to deepen these partnerships by focusing on learning, climate adaptation and social inclusion."
First Blue Deal Congress
Delegations from Argentina, Burkina Faso, Colombia, eSwatini, Ethiopia, Ghana, Indonesia, Kenya, Mozambique, Palestinian Territories, Peru, Romania, Vietnam, South Africa will attend the first Blue Deal Congress. The international partners will have the opportunity to get to know each other and the Dutch parties involved in the Blue Deal for 5 days. These days are all about meeting and exchanging knowledge.
On Monday, guests are welcomed in Amsterdam where they are introduced to Dutch water management. On Tuesday, the international delegations will stay in Amsterdam where they will exchange knowledge about common water challenges. Wednesday is dedicated to seeking knowledge in the field a number of excursions to Dutch water projects are organized here. On Thursday and Friday, the delegations will go into the provinces to visit one of the 21 partner water authorities.
Programme during the Congress
Monday 12 June
Welcome by the Head of Dutch Water Authorities (Luzette Kroon), an introductory session on Dutch Water governance and a session on intercultural cooperation. All international partners are kindly asked to introduce themselves and a meet & greet will be organized between the international delegations and the Dutch representatives within the Dutch Water Authorities. Followed by a boat trip on the river Amstel.
09.30h – 10.30h Walk in and registration, coffee with a Dutch pastry
10.30h – 12.30h Welcome and plenary morning on Dutch Water governance
12.30h – 13.30h Lunch, meet & greet with partners
13.30h – 15.30h Plenary session on intercultural communication
15.30h – 16.15h Plenary wrap-up of the day
16.15h – 17.45h Boat trip on river Amstel, with drinks
Tuesday 13 June
All participants are invited to contribute in technical sessions on common challenges in the water sector.
09.00h – 09.30h Plenary kick-off day 2
09.30h – 11.00h Round 1 – workshops
11.00h – 11.30h Break
11.30h – 13.00h Round 2 – workshops
13.00h – 14.15h Lunch break
14.15h – 15.30h Plenary wrap up of the sessions
15:30h Optional: 'regional sessions'
Wednesday 14 June
On Wednesday, 3 excursions are offered.
9.00 Bus leaves for excursion 1
10.00h Buses leaves for excursion 2 and 3
10.00h – 16.00h Travel from/to location, guided tour, lunch
16.00h Back at hotel
16.00 – 17.00h Possibility to refresh before closing dinner and party
17.00h Evening: dinner and party at Waternet
What happened during the Congress?
Read what happened during Day 1 of the congress.