The South African Blue Deal partnership's Vredefort Dome project has been quite successful in the past year. A Blue Deal delegation from the Netherlands visited this project in September and found out that most agreements from the previous visit had been fulfilled.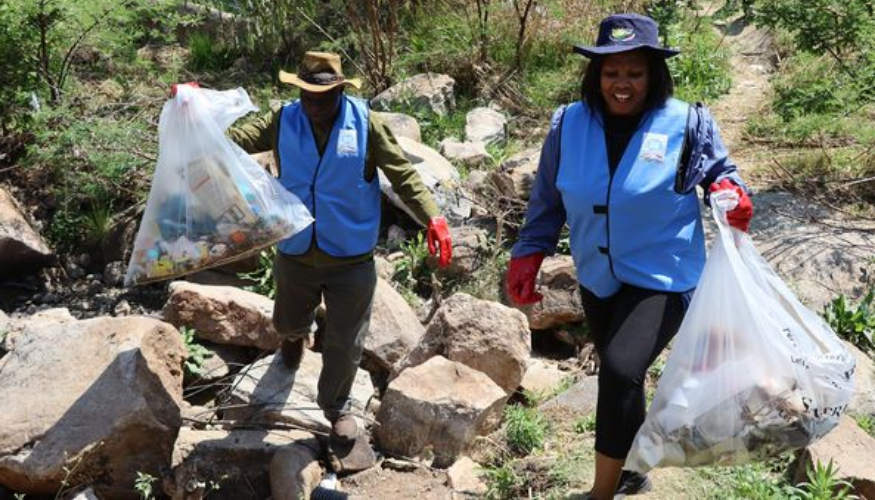 The April 2022 work visit had agreed on improvements to the Waste Water Treatment Work at Parys. Pumps would be replaced and generators repaired, so during periods of load shedding (without power) there would be fewer spills of sewage water.
Mayor of Ngwathe calls for action, action, action
The Mayor of the municipality Ngwathe, Victoria De Beer-Mthombeni, was present during a clean-up campaign organised as part of the World Clean Up Day. More than 20 large rubbish bags of dirt were collected in 2 hours. A community awareness event was also organised in which the mayor gave an impassioned speech that something really needs to be done and that the municipality and community need to do it together. That really helps in making progress. Her approach is: "No more plans, but action, action, action." The slogan for the campaign is: "A clean river starts with me, TODAY!" Blue Deal plays an important and visible role in this campaign as a brand name and driving force.
Vredefort Dome at the WISA conference
From 28 tot 30 September 2022 the Biennial Conference of WISA, the Water Institute of Southern Africa, took place in Sandton, South Africa. In a 2-hour session the Blue Deal programme was presented, including all the projects in South Africa. Progress on the Vredefort Dome project in phase 1 was also discussed. In addition, attention was paid to the preparation of Phase 2 of this project. An approach was chosen in which technical aspects, stakeholder involvement and monitoring (and communication) are leading. For each subject, 1 main objective will be described in Phase 2 and each objective will have a maximum of 5 key actions. The intention is that all further activities will be clustered under these objectives.
T+S+M = clean river
People often ask for a short description of the approach. The Blue Deal partnership chose to present it in a mathematical equation: Technical + Stakeholder + Monitoring = Clean River. This was presented during the WISA conference. It was discussed after the presentations. People said that they were missing the F of finance in the equation. The Blue Deal does not bring in large investments, but it can support to use the available money differently. For example by extending the technical lifespan by organising good operation and maintenance.