The water challenges in Southern Africa are immense. Floodings, droughts; water and climate related disasters always seem to be just around the corner. On November 25, the Blue Deal partnerships of eSwatini, Mozambique and South Africa joined forces in the first joint regional Blue Deal exchange meeting in Johannesburg. Here they discussed the issues regarding data management of water data.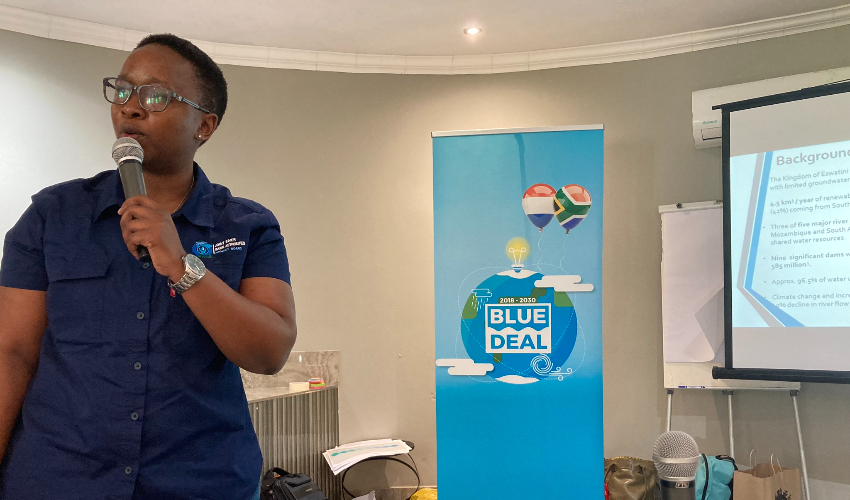 Similar challenges
The 3 countries face similar challenges: how to ensure financial stability? How can data sharing within and between countries be improved? And many technical hurdles, for example how to integrate the now often still separate data systems? As Ntombikayise Dhladhla, participant of the Blue Deal Young Expert Programme, explained: "In eSwatini, the main issues are reliability of the data, which leads to limited data sharing. We are working in silos."
Lessons learnt
During the day the Blue Deal teams of the 3 countries looked back on Phase 1 of the Blue Deal. Experiences and lessons learnt were shared. Looking to the future, people shared their ideas on which topics the partnerships can work together. Ideas included working together on a central database, organizing shared lab facilities and connecting existing databases.
Different perspectives
Ambassador Han Peters mentioned the importance of long-term equal partnerships, which are the basis for the Blue Deal: "No one country can solve the problems of today on their own. You need different perspectives, you need people from different backgrounds if you want to get to the greatest solutions." And with this first regional meeting of 3 Blue Deal partnerships, a strong start has been made.